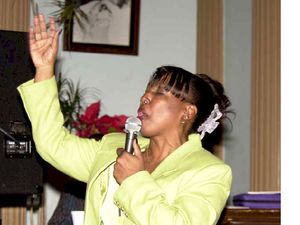 Alfreda Akgonon - Singer Songwriter, Producer
Alfreda is the daughter of Fred and Cleola Small.   She is a pastor's daughter who literally grew up singing in the church. She has been writing and singing for the Lord since she was 12. Her lyrics and music delivered by her heart-piercing voice bless all those who hear, believers and unbelievers. As she ministered to the local churches over the years with song, the Lord continued to confirm her calling of writing, arranging, and singing His music.

She has served as worship leader at Village Baptist Church located in Petaluma, California for over 25 years.  She is married to Reverend Emmanuel Akognon and has 3 children.