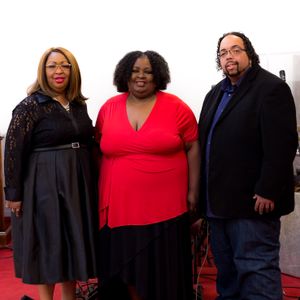 Ken Young, Therese Leonard Young, Monique Leonard - Background Vocals
Ken Young, Therese Leonard Young, and Monique Leonard have been singing together for over 25 years.   Ken and Therese are married and Monique and Therese are biological as well as spiritual sisters.  Their voices blend so beautifully where they are a solid foundation to the Bay Area Gospel Playlist songs.  
Ken Young is the Director of Music  Ministry at Providence Baptist Church located in San Francisco.    All three vocalists have been members of Providence Baptist Church for many years.