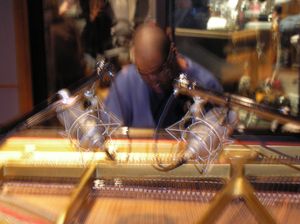 Vincent Wilson - Producer, Musician, Songwriter
Minister Vincent Wilson is a worship leader, producer, songwriter, musician and music arranger.   He is a longtime member and worship leader at Neighborhood Baptist Church located in San Francisco, California.  
Ministering in music since the age of 7, Vincent has become proficient in every aspect of Gospel music where he is an ordained minister, plays the keyboard and organ,writes songs (lyrics/music arrangement), is a sound engineer, and gifted producer.  
Since becoming totally blind in 1998, he has worked to establish a new way of playing instruments and directing the choirs.  Although this has been quite a challenge emotionally as well as practically, Vincent has been victorious through Christ who has strengthened him.He and his wife, Regina Wilson, have 2 sons and live in Vacaville, California.